Marco Papa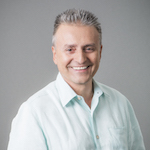 Senior Lecturer of Computer Science
Education
1988, Doctoral Degree, Computer Science, University of Southern California
1983, Master's Degree, Computer Science, University of Southern California
1977, Bachelor's Degree, Electrical Engineering, University of Bologna
Biography
---
I was the Chief Technologist and the SharePoint Project Manager at the Superior Court of California, County of Los Angeles, the largest court system in the world. I am the principal of Intersect World LLC, a mobile development company. Intersect World develops mobile software for the iOS and Android platforms.

I was formerly the Director of Technology at Xceed, an Internet professional services company. We built websites for companies such as CBS, Hilton, and Universal Studios. I performed in a similar capacity as Vice President of Technology at US Interactive, Inc.

Prior to that, I was Chief Technology Officer (CTO) at CareerBuilder, a leading internet employment advertising engine and CTO at Luckman Interactive, Inc., a developer of Internet tools and services.

I have spend over 30 years in the IT / Internet business. I am the co-author of Anonymous Cookie, a cookie-blocking program, which was a finalist in the Discover Magazine Award for Technological Innovation in 1998.

I am a member of the Los Angeles chapter of the LA CTO Forum, a national organization of Chief Technology Officers, and a vibrant, private network with more than 250 members.

I hold a Ph.D. in Computer Science from the University of Southern California. My Ph.D. thesis, back in 1988, was in Computer Graphics. Over the years, I've been a UNIX developer, then a Microsoft Windows developer, a System Architect, then VP/Director of Technology, and then CTO.

I am on the full-time Faculty of the University of Southern California, as Senior Lecturer of Computer Science in the Viterbi School of Engineering, where I have been teaching courses on Web Technologies and Principles of Programming Languages in the Computer Science graduate and undergraduate programs.

I live in the South Bay with my wife and my cats, Franco and Luca. I used to spend my spare time biking on the beach; now I just ride my new Tesla Model S P90D and spend way too much time on the Internet.

I have lived in the LA area for over 40 years, but my roots are in Bologna, Italy, where I spent the first 27 years of my life, and where I graduated with Summa Cum Laude in Electrical Engineering from the University of Bologna, the oldest University in the world (founded in 1088).


Appointments
Office
PHE 516
Charles Lee Powell Hall
3737 Watt Way, Los Angeles, CA 90089
USC Mail Code: 781
Contact Information
(213) 740-1873
papa@usc.edu
Links