David Traum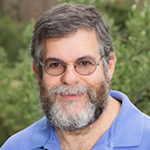 Research Professor of Computer Science
Education
1995, Doctoral Degree, Computer Science, University of Rochester
1987, Master's Degree, Computer Science, San Jose State University
1985, Bachelor's Degree, Applied Mathematics, Harvard University
Biography
---

Dr. David Traum (http://www.ict.usc.edu/~traum) is the Director for Natural Language Research at the Institute for Creative Technologies (ICT) and Research Professor in the Department of Computer Science at the University of Southern California (USC). He leads the Natural Language Dialogue Group at ICT. More information about the group can be found here: http://nld.ict.usc.edu/group/ Traum's research focuses on Dialogue Communication between Human and Artificial Agents. He has engaged in theoretical, implementational and empirical approaches to the problem, studying human-human natural language and multi-modal dialogue, as well as building a number of dialogue systems to communicate with human users. These systems have ranged in complexity from simple command and control and system-directed information-providing systems to full mixed-initiative collaborative planning and interaction, and have included both uni-modal (text or speech) and multimodal (gesture, sketching, pointing) systems. One major thrust of research includes the "grounding" problem -- how do communicators realize how well they are understanding each other, and what steps can and should they take to increase this mutual understanding (including giving positive and negative feedback, in a variety of modalities).

Traum has authored over 300 refereed technical articles, is a founding editor of the Journal Dialogue and Discourse, has chaired and served on many conference program committees, and is a past President of SIGDIAL, the international special interest group in discourse and dialogue. Traum earned his Ph.D. in Computer Science at the University of Rochester in 1994.



Research Summary
---
Dialogue Systems, Natural Language Processing, Computational Linguistics, Artificial Intelligence, Autonomy, Virtual Humans, Believable Agents, Multimodal Interaction, Formal and Behavioral Models of Culture-specific interaction.


Awards
---
2011 Florida Artificial Intelligence Research Society FLAIRS-24 Conference Best Paper Nominee
2011 Florida Artificial Intelligence Research Society FLAIRS-24 Conference Best Poster Award
2011 Army 2nd place in the "Patterns of Life" category
2007 I/ITSEC Best Paper nominee
2006 Best Paper
Appointments
Thomas Lord Department of Computer Science
Office
ICT 4000
Institute For Creative Technologies
12015 Waterfront Drive Los Angeles, CA 90094-2536
USC Mail Code: 0
Contact Information
(310) 574-5729
traum@ict.usc.edu
Links